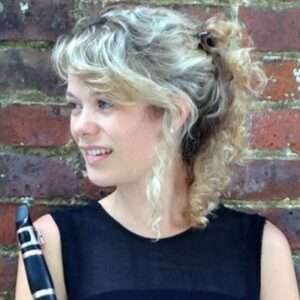 Elaine Ruby
Klarinette
Den engelske klarinettist Elaine Ruby flyttede til Danmark i 2014, da hun vandt stillingen som soloklarinettist hos Ensemble Storstrøm, lige efter hun havde færdiggjort sine studier ved The Royal Academy of Music og Royal College of Music i London. Efter 3 år i ensemblet startede Elaine på, hvad der viste sig at være en meget travl og vellykket karriere i Danmark som orkester- og kammermusiker.
Elaine har undervist klarinet de sidste mange år, og var glad for at blive inviteret til at være klarinet-mentor i TV serien "Vidunderbørn", som blev vist på DR1 i vinteren 2017. 
Udover at undervise på Sankt Petri Musikskole har Elaine primært travlt med at assistere i Det Kongelige Kapel, Det Kongelige Livgardens Musikkorps og i Copenhagen Philharmonic Orkester.